At the opening
Here we see David Hockney at the press viewing with curly-haired Piet Coessens, then director of exhibitions. In the background you could see a glimpse of Hockney's famous painting We Two Boys Together Clinging (1961).
David Hockney came to Brussels with his good friend Henry Geldzahlzer. They were introduced in 1962 by Andy Warhol, when Henry was curator of American Art at the Metropolitan Museum in New York, and remained firm friends. Geldzahler's death of pancreatic cancer, only two years after their Brussels trip, was a severe blow to Hockney, who had already lost so many friends to AIDS. "Mr. Geldzahler could be both charming and undiplomatic, often at the same time," said the New York Times in his obituary.
Geldzahler and his boyfriend Christopher Scott had been the subject of a large Hockney painting. Here Hockney and Geldzahler are posing for another one of those famous 'double portraits': that of writer Christopher Isherwood and his partner, the painter Don Bachardy (1968).
 
In the city
Hockney also visited the city of Brussels. He strolled through the Grand Place and visited the Galeries Royales Saint-Hubert. Finally, he stopped for a meal at the legendary restaurant 'Taverne du Passage', which, like the Centre for Fine Arts, opened its doors in 1928, but unfortunately had to close its doors permanently recently due to the corona pandemic.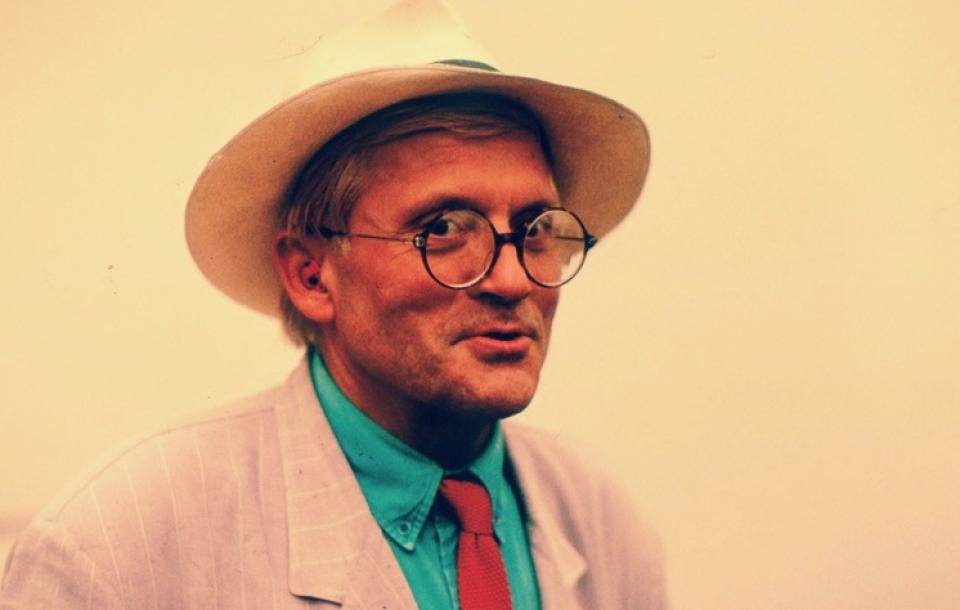 The poster
The poster for the Hockney show featured his painting Montcalm Interior with Two Dogs (1988). The retrospective was part of a larger festival celebrating British culture in Brussels. The festival also included performances of the famous Glyndebourne production of Stravinsky's The Rake's Progress, for which Hockney designed the sets, at La Monnaie.