From the beginning of his career, Rinus Van de Velde almost obsessively created a visual world in charcoal. A path he still likes to follow, but over the years he started travelling to other destinations. Destinations in colour, in 3D or at the side of other artists. An artistic journey where intuition and imagination prevail. We asked him about the whys and wherefores of this major exhibition, what the Centre for Fine Arts means to him, and where the future will take him.
The exhibition is titled Inner Travels. What story do you want to tell with that?
EUROPALIA came to me with their festival about trains, a theme we extended to the train as a metaphor for a journey. The inner journey, taking a trip in your imagination, is an important theme in my work. But certainly don't expect a brochure for holiday destinations. For example, I also travel to other times, meeting artists like Claude Monet and Edvard Munch. The exhibition is an ode to the imagination.
Physically, you hardly travel at all?
No, but I'm not a hermit who never goes outside either. There are a number of reasons why I don't like to travel, but those are purely personal. I do travel for my work, of course, and this allows me to discover the work of other artists. But I know a lot of art in a digital way, which of course is not the same thing. When I saw the David Hockney exhibition at Bozar, I was amazed by the portrait he did of his parents. I've seen it hundreds of times in catalogues, but in real life the experience is still different, the details, the colours, etc. We are in a period where technology can capture art almost perfectly. The aura of art disappears, allowing me to use works as a source of inspiration and as images. For example, there is a work in the exhibition where I was inspired by Pierre Bonnard.
Rinus Van de Velde, Some art historians and lousy curators kept searching in the totally wrong direction., 2016 © Courtesy Tim Van Laere Gallery, Antwerp
Rinus Van de Velde, Some art historians and lousy curators kept searching in the totally wrong direction., 2016 © Courtesy Tim Van Laere Gallery, Antwerp
You draw inspiration from art history, but in this exhibition, you're exhibiting with other top artists in tandem. Is it the first time you've done that?
I also had such an exhibition this summer in Nantes. In dialogue with other artists, I told a new story there, something I also do in Bozar. When I got the question from EUROPALIA, I had just seen that incredible Brancusi exhibition. Because there's so much in-house expertise in requesting items on loan, this was the ideal opportunity for me. It made the project even more exciting. At one point, I had made a book of 150 works that I'd like to show – far too many, of course. We started selecting from that, which is also part of my practice. What I do in my studio is already a kind of curation. I often draw on the work of other artists, but now there's an additional layer: their presence in the exhibition.
Why did you choose artistic counterparts?
What attracts you the most is often what you yourself are not. Plein air painting is miles away from me. It symbolises a kind of ultimate longing, and at the same time a realisation that this is everything I am not. I could have hung a Rodney Graham here as well, which is much closer to my work, but then it would also be a kind of confirmation that what I do is also done by others. I believe very strongly in the unique position of an artist. It's much more interesting to find common ground with artists who are doing something completely different.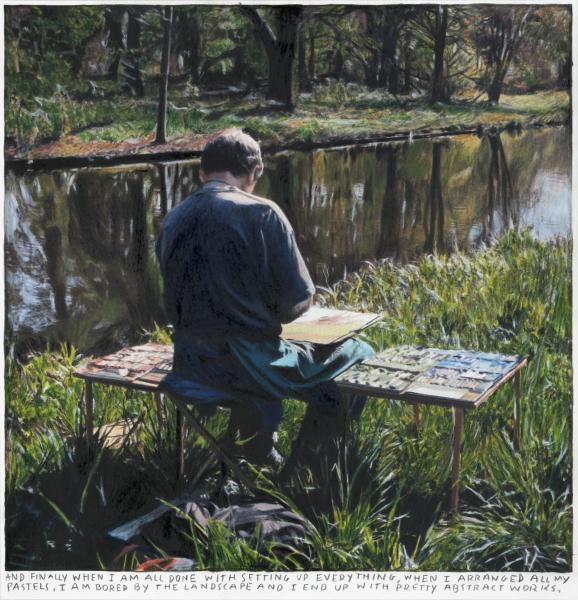 Rinus Van de Velde, And finally when I am all done with setting up everything, ..., 2019 © Courtesy Tim Van Laere Gallery, Antwerp
You show your widely known charcoal drawings, but now also work in colour. How did you come to that?
The search for a drawing in colour has been there from the beginning. Ten years, it took me. I started to master oil pastels and began to draw with them obsessively. This is a very organic process with no major steps. Only the die-hard fans know what I've been up to lately. I don't blame the public for identifying me with charcoal drawings. But that's why this exhibition at Bozar is so important, because I can show on such a large scale in Belgium what has happened in the past 15 years.
So is Inner Travels your most 'total' exhibition to date?
In Belgium, it certainly is. Exhibiting in the home country is always something special for me too, and it's very important for me to show all the media.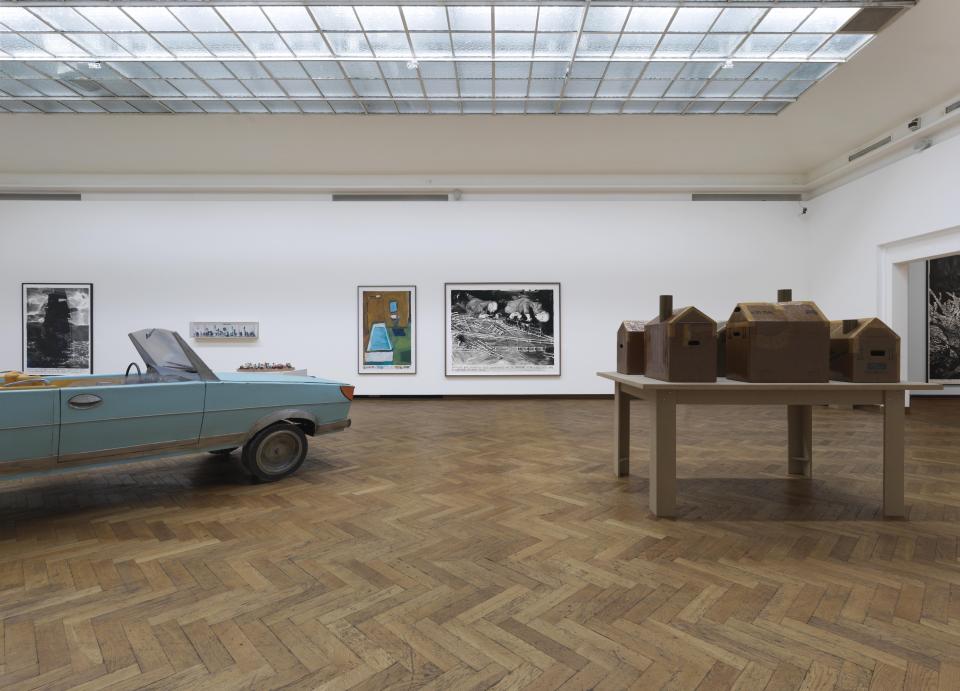 The Centre for Fine Arts has a long tradition of exhibitions. We are also celebrating this year, as the 'idea' of the art house is 100 years old. What is it like for you to exhibit here?
I've been coming here all my life. Bozar is one of the most important art institutions in Belgium. I've seen exhibitions here that have helped shape me: Jeff Wall, Neo Rauch, Michaël Borremans, Luc Tuymans, etc. The very first one I remember was one by Karel Appel. Ever since I was studying, I've come to every exhibition at the Centre. I then Photoshopped my work into the halls and thought "What would it be like to have my work hung here? How would that work in terms of scale?"  Then 20 years later, now it's happening, that does something to me.
What do the arts still have in store for you, do you think?
If I knew that, I'd be making it now. Everything comes very intuitively. You can have very big plans, but those plans never work. The last work we made was the train that you see right at the start of the exhibition, a climax in my career as an artist. We've never made such an elaborate set, which was refined down to the smallest detail. Where do we go from here? How will we keep it exciting in the studio? That's really the only question that matters. I started drawing very 'light' and now we're working on one set for a very long time – you can't call that light anymore. Perhaps I'll want to try and bring that lightness back into my work.