Vivian Maier (1926–2009) herself appears in her work from the time she began photography in the 1950s, until the 1980s, when she gradually withdrew from public life altogether and also left her camera in the corner. These self-portraits are one of the most compelling aspects of her oeuvre, and are also the domain of her greatest and freest experiments as a photographer. Our exhibition features a large selection of these self-portraits, grouping them into three themes.
Shadow
In many of her photographs, Maier herself literally casts a shadow on the image. The photographer is present, but only as a negative of her own body. Her true self remains – literally – in the shadows. Yet it is not simply an anonymous shadow. As she liked to dress in oversized coats, and she often wore a hat, especially later in life, Maier's shadow becomes a recognisable silhouette, almost like a signature.
Sometimes the shadow seems like a playful wink, alerting us that someone is behind the camera. Sometimes it hangs over the object of the photograph like a dark, almost menacing cloud. Is the photographer a casual passer-by? Or a determined stalker?
Vivian Maier is not unique in this style. The self-portraits of Walker Evans and Lee Friedlander, for example, play with shadows in a similar way. Maier kept people at a distance but was anything but a recluse; she loved art books and visited exhibitions, including at MOMA, and so she was very likely well aware of what her fellow photographers and contemporaries were doing.
Mirror
Nothing is as revealing as an honest look in the mirror. Because it just reflects reality, doesn't it? It seems as though Vivian Maier couldn't walk past a mirror without taking a picture. But here, too, Maier manages to show herself and at the same time blur the image we get of her.
For a photographer, the double framing is irresistible: the frame of the camera and the frame of the mirror. It makes the game of showing and hiding especially complex. Maier often shows only a fragment of herself in the mirror: sometimes a part of her face, sometimes just a torso. Or we see several Vivian Maiers, reflected almost endlessly.
Which version is the real Vivian Maier? Throughout her life, Vivian Maier wrote her name in different ways, gave false names, and when asked what her profession was, she often answered: spy. In her self-portraits, too, she performs different versions of herself: de-duplicated and endlessly derived.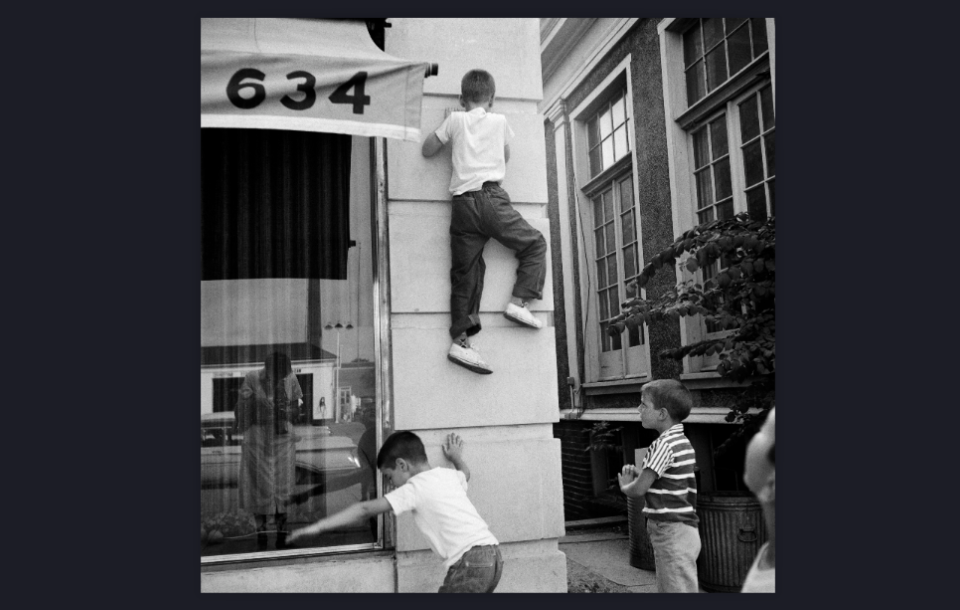 Reflection
Any reflective surface can serve as a mirror for Maier. From shop windows to chrome toasters, almost everywhere the alert observer encounters a reflection of the photographer. Which raises the question: what is the real subject of this street photographer? The children playing? The sprawling cat? Or is it the woman with the Rolleiflex camera herself, whose reflection sometimes discreetly, sometimes emphatically, places herself in the frame?
Vivian Maier's many self-portraits seem to say: I exist. At the same time, they seem to contradict what we know about her: she avoided personal contact with people and aggressively shielded both herself and her private life. It is this enigmatic tension that makes the self-portraits so endlessly fascinating.