Caravan Residency 1
Cittadellarte Fondation Pistolletto Biella Italie
May 2022
After two years of lockdown and a narrowing of horizons and human relations, I had the opposite experience of spending ten days with around 30 artists, curators and urban activists. We came from Egypt, Slovenia, Turkey, England, Italy, Germany, Greece, Lebanon, Croatia, Cyprus, France and Belgium. It was at the edge of the Cervo alpine stream, in an art for a responsible change in society factory, that we activated our common Mediterranean imaginary around Alexandria. Ten days behind closed doors to get to know each other and discuss different artistic practices and urban contexts is a lot yet also not long.
I proposed a first portrait of Brussels: Brussels Babel, a crossroads city in North-West Europe, as cosmopolitan as a seaport. 150 languages are spoken in its streets and 1 in 3 inhabitants comes from "abroad", mainly from the Mediterranean area. I described my fascination with its schizophrenia, which oscillates between excess (Palace of Justice, capital of Europe, etc.) and a human scale (village-districts, biomass, transitional urbanism). And how its artists, activists and inhabitants affect its transformation.
From all the other presentations, three issues came to the surface:
• the links between formal and informal spaces in the development of metropolises
• water infrastructure and ecological collapse
• the dominant narratives that structure the public space
The war in Ukraine was just beginning when we said goodbye to each other. And everyone went home, wondering what the consequences would be in each of our countries, and if the state of the world would allow us to meet again in Alexandria the following month.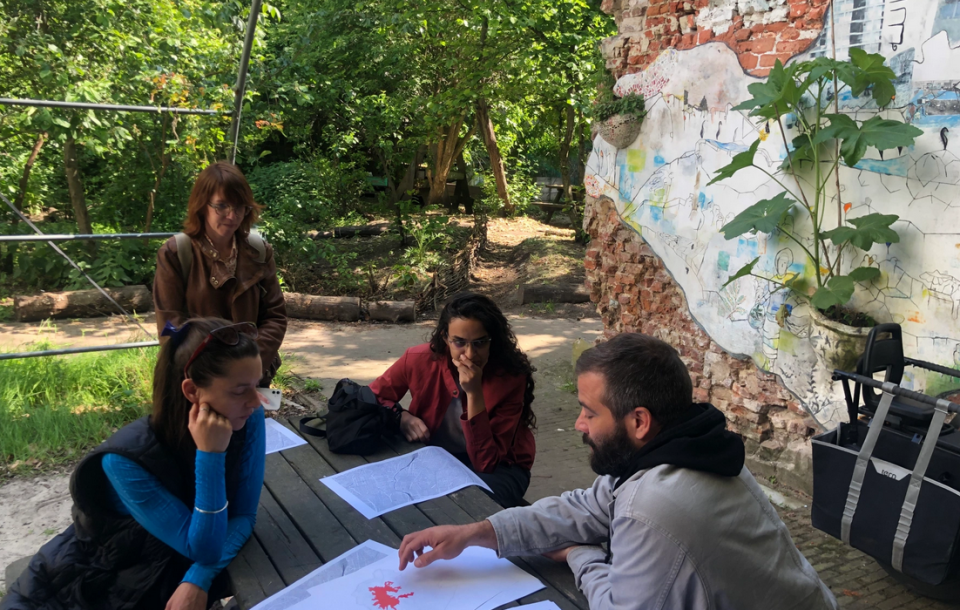 Caravan Residency 2
Alexandria Egypt
April 2022
Immersive journey in two groups. Feeling of reprieve from Covid-19 and war...
We were guided between formal and informal spaces by CLUSTER, a laboratory for urban studies in Egypt, and into the artistic and cultural worlds by curator Sarah Bahgat. I discovered and felt many similarities with Brussels Babel. I have a distorted impression of a journey to dystopia. Something in the order of a possible future. Like in a dream: a city would collapse into its subsoil because its underground water network is too old and cracks. A new city would then be built a bit further away, a city above ground, without links to the earth, and without relations between the inhabitants. It would house people who work and consume, to feed the dominant narrative of progress and wealth.
We said goodbye again, with plans to meet in small working groups in four cities to "think" with Alexandria: Marseille, Nicosia, Athens and Brussels.
Caravan Residency 3
Brussels Belgium
May 2022
The war was spreading. Covid-19 was fading from the present but not from the collective memory.
Four artists were welcomed to Brussels by Bozar and the Boghossian Foundation: the Latent Community duo (Greece), Nina Kurtela (Croatia) and Omnia Sabry (Egypt).
I scheduled three urban excursions linked to theoretical and experienced problems.
The first excursion involved surveying urban scars: seams between formal and informal spaces in Brussels. We looked at the destruction of the historical heart of Brussels with architects Hans Eelens & Gilles Debrun. I mentioned different ways in which residents, artists, architects and urban planners are treating the wound. This gives Brussels an organic dynamic, like a living body.
The second excursion involved following the course of the water in a Brussels watershed. We were guided in this magical walk by the Etats Généraux de l'Eau, who showed us how the city was built against and not with the water. From the heights of Altitude 100 in Forest to the gardens of the Senne Valley, through the Jardin Essentiel and the Marais Wiels, we met inhabitants fighting to give water back its status of common good, updating its role as an economic and social link.
The third excursion was guided by Georgine Dibua, a researcher engaged in a decolonial approach to public spaces. Her view revealed the colonial impregnation of the quarters of power (European quarter, royal quarter) and the cultural institutions (Bozar). Starting with the materials from which buildings and monuments are built, she unfolded a story of slavery and the exploitation of the Congo's resources.
In addition to the excursions, the artists met stakeholders from the Brussels cultural scene, visited exhibitions, festivals, temporary exhibition spaces and more. We watched Maria Tarantino's film Our city, which draws an intense multicultural, multisocial and multispatial portrait of Brussels.
In July, we will meet again in Biella for feedback on the artists' research. It is difficult to draw conclusions from this overwhelming programme, which was compacted into three months due to world events. But from Alexandria to Brussels, I was again seized by the urgent need to take care of our urban commons: water, public space and collective trauma. What has been sown here will sprout there.
Pauline de La Boulaye, independent urban curator
* Caravan: Thinking with Alexandria is a residency organised in the framework of the European programme Alexandria: (Re)activating Common Urban Imaginaries. It includes two residency programmes (Caravan: Thinking with Alexandria and  School for Sonic Memory for sound and urban heritage), workshops and the exhibition Alexandria: Past Futures, which will run at Bozar from 30 September 2022 to 8 January 2023.
The European project Alexandria: (Re)activating Common Urban Imaginaries, co-financed by the European Union's Creative Europe programme, is implemented by the following partners: the Royal Museum of Mariemont (Morlanwelz), the Centre for Fine Arts - Bozar (Brussels), the Cittadellarte - Fondazione Pistoletto (Biella, Italy), the Museum of Civilizations of Europe and the Mediterranean - MUCEM (Marseille), Onassis-Stegi (Athens) the University of Leiden (Netherlands), the Kunsthal of Aarhus (Denmark) and the Undo Point Contemporary Art Centre (Nicosia, Cyprus), and in collaboration with the associated partners CLUSTER (Cairo, Egypt), the French Institute of Alexandria (Egypt) and Theatrum Mundi (London).