The Paleis voor Schone Kunsten NV/Palais des Beaux-Arts SA (Centre for Fine Arts – Bozar Brussels), is a public limited company with a social purpose. An ambitious management contract stipulates that it is Bozar's mission to contribute to the prestige of the federated entities of our country and of Europe, maintaining an active policy around making culture accessible to a broad audience. Its mission in tangible terms relates to the organisation of its own activities, hosting third-party activities and undertaking co-productions with partners.
To fulfil this mission, Bozar receives a federal endowment, supplemented with support from the National Lottery. These resources comprise approximately half of our total budget and are used to cover part of the operational costs. To finance the artistic projects and bridge the remaining operational costs, Bozar must rely on other incomes.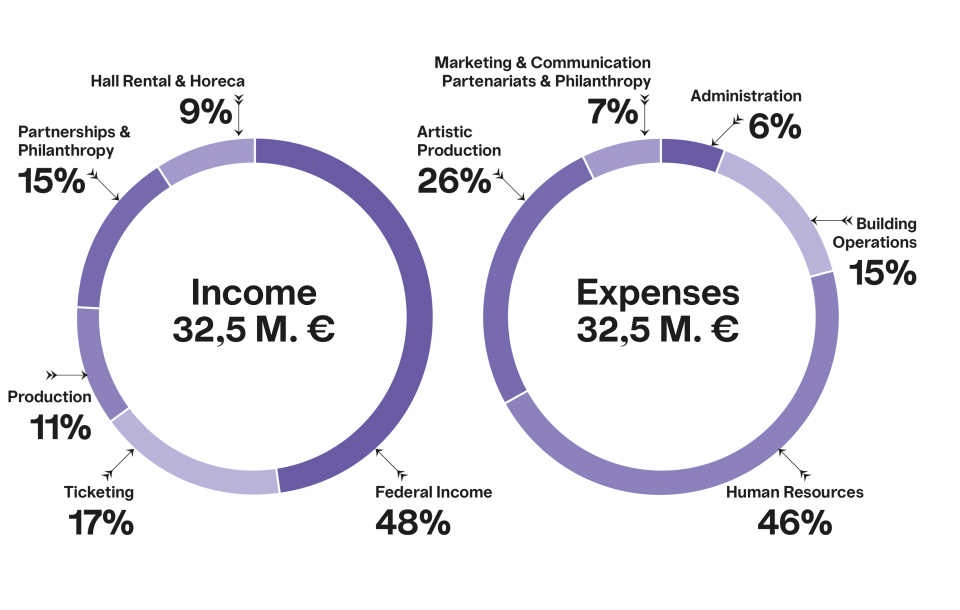 The operational costs comprise 67% of the organisation's overall expenditure. The federal endowment covers only part of the running costs. Beside the revenue from ticketing, Bozar has to find additional net funding of €3 to 5 million annually (4.4 million in 2019), primarily in the form of partnerships and philanthropy, but also from room hire revenues. These other revenues depend on the artistic activities that contribute to the prestige and social mission of Bozar to attract our partners and patrons.
The financial model of the Centre for Fine Arts has proved itself successful in recent years by providing additional financial resources itself in order to fund the artistic programme, and re-injecting these funds into the economy. To maintain this model, the Centre for Fine Arts must nevertheless remain operational. It is therefore self-evident that the current situation, characterised by the COVID-19 crisis and the damage caused by the fire on January 18th 2021, puts our financial equilibrium at risk. The interruption of our activities, both artistic and commercial, the uncertain future regarding partner events etc., and the slow restart have contributed to a severe contraction of budgetary forecasts for 2021.
In the meantime, Bozar has implemented several profound changes in order to be able to once again present the public with an artistic programme in a safe way. These changes are taking place in the areas of infrastructure, communication and artistic programming. In this way, Bozar hopes to prepare itself and its partners as well as possible for a flourishing artistic experience in a post-COVID society.