Can you tell us what your role in the residency was?
I was called by Teun Verbruggen from Werkplaats Walter to participate in the residency. He trusted me for this project, which is built on improvisation, discovering new universes. This type of music is not very traditional; therefore, it requires some expertise in the fields of sound and improvisation to allow musicians to experiment and create pieces within few days, even if the structure is not very clear.
How did the meeting with the artists go?
Great. I already knew Soet Kempeneer and Mattias de Craene. I was very curious to meet the other musicians, Elyse Tabet and Yara Asmar from Lebanon and Amine Dhouibi from Tunisia. I am also interested in music from the Middle East. It was interesting to talk with musicians from the Arab world, because I realized that we have a lot of things in common, and it really helps to talk about music, even if we realised it was not obvious, and I did have some presumptions that were incorrect. It was all very rich! We played a lot, recorded, listened to recordings, discussed, started again. It wasn´t always easy but everyone was open and generous, so we were working in a nice atmosphere.
Were there any particular difficulties, due to the fact that they come from different backgrounds, for example?
We immediately spoke a very similar language. I talked a lot about techno music with Elyse, experimental music with Yara and jazz with Amine. Likewise, Mattias or Soet also have a wide range of (global) influences, which seems obvious in the field of jazz and electronic music. The difficulty is more on a musical level when it comes to improvisation. There are a thousand ways to improvise. Some are coming more from a jazz tradition, others work in an experimental way more on sound and less on musical structures. The approaches are different and really personal.
The Halaqat project also aims to create links between artists from the Arab world and those from Europe. Do you find that the residence achieved this objective?
Yes, we had some very interesting musical exchanges. And it must be said that artists from the Arab world are very familiar with musical production in Europe. But on a human level, other moments beyond the creative space were also very important: when we went for a drink, when we had lunch together. From this point of view, five days of residence was not enough for the participants to really get to know each other. So if there was any feedback to offer, I would say that we should have given ourselves a little more time to get to know each other on the human level and to better understand each other's situation, because we were not there only for the music!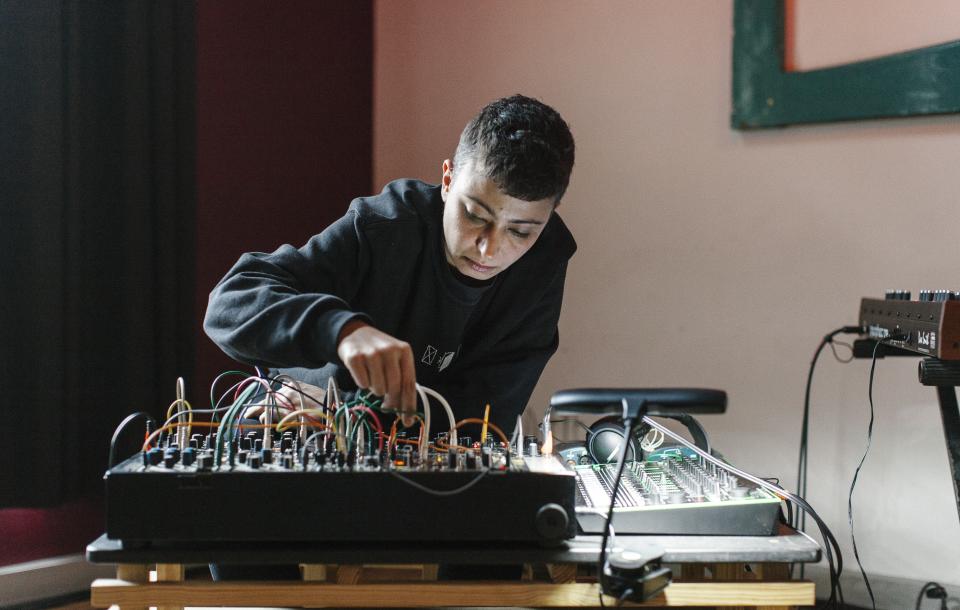 Christophe Albertijn has had a lifelong interest in music and sound recording. From home recording experiments in his early teens with tape recorders and home-made devices to studies in documentary film and electro-acoustic music composition, his passion led him to his work as a sound engineer from the late 1990s until today. He has worked for dancers, filmmakers and visual artists on sound design, post production, and creating and performing original music.
Curious about the outcome of this residency? Rewatch the 'Halaqat Impro Session' that took place at Bozar on 4 December 2020.
Join @Halaqat2122 on Facebook to find out about other Halaqat residencies and projects.
The European project Halaqat is implemented by the Goethe-Institut in collaboration with Bozar - Centre for Fine Arts Brussels. Halaqat is co-funded by the European Commission (under the designation: EU-LAS CULTURE), the Goethe-Institut and Bozar. 
اجتمع خمسة فنانين من العالم العربي وأوروبا لمدة ستة أيام لعزف موسيقى سويةً. استضاف كريستوف ألبرتين الإقامة الموسيقية الأولى. سألته دنيا حلاق من معهد جوته عن تجربته وإحساسه خلال هذه الإقامة المثيرة للاهتمام.
ما هو دورك في هذه الإقامة؟
اتصل بي Teun Verbruggen من Werkplaats Walter وعرض عليّ أن أشارك في الإقامة. لقد اعتمد عليّ في هذا المشروع القائم على الارتجال واكتشاف ثقافات جديدة. هذا النوع من الموسيقا ليس تقليدا؛ لذلك يتطلب الأمر بعض الخبرة في مجالات الصوت والارتجال. كان هدفنا أن نعطي مجالاً كبيراً للموسيقيين لكي يقوموا بتجربة وإنشاء المقطوعات الموسيقية في خمسة أيام فقط ، حتى ولو لم يكن الهيكل واضحاً تماماً.