Find out more about Halaqat at Bozar until 29 January and download the Halaqat publication to dive deeper into the lessons.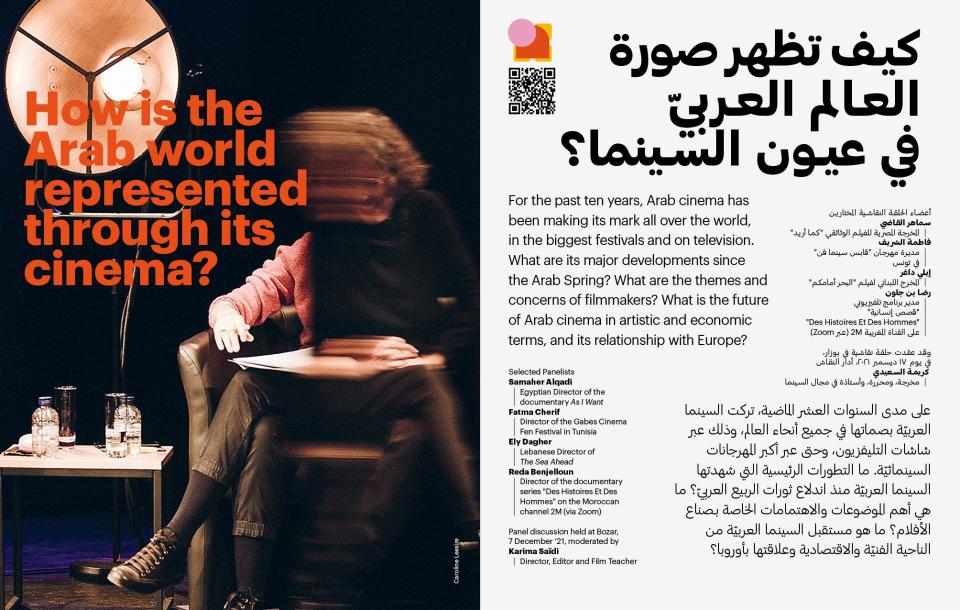 Halaqat means "circles" or "links". Its spirit is to consolidate meeting points and build bridges between Europe and the Arab world. From residencies for artists working in the visual arts, performing arts, music and cinema, to public debates and roundtables, each activity in this project is designed and carried out through dialogue and exchange between the two shores of the Mediterranean, leading to new synergies being created through the complementarity of their perspectives and histories.
Halaqat allows emerging and established artists to showcase the results of their research and creations to a larger audience, one which has been able to discover the original nature of their work and even—on certain occasions—to have a constructive and rewarding exchange with them. These productions are also shared with cultural programmers, laying the groundwork for promising future collaborations.
The programme consists of three components: 
Creation: residency programmes bring together European and Arab artists with distinct backgrounds in Brussels in a process of artistic creation;
Presentation of artistic activities: film screenings, concerts, performances, art installations, and the presentation of works created at the end of the residencies;
Reflection on cultural relations: experts and cultural operators from Europe and the Arab world met on several occasions with a view to developing closer cultural and artistic cooperation between Europe and the Arab world.
A veritable laboratory of human and artistic experiences, Halaqat offers an unprecedented space for immersion and creation where each person can set out to discover the riches of others. This is a model based on the welcoming acceptance of otherness in the midst of a changing world.
Halaqat is a project organised by the Goethe-Institut and Bozar with many Arab and European partners: Cinemaximiliaan, Atelier Graphoui, Sound Image Culture - SIC, iMAL, Cairotronica, San3atech FabLab Egypt, Werkplaats Walter, Amman Jazz Festival, Théâtre Marni, Studio 8, La Bellone and the Ad'Hoc Platform. We could not have dreamed of a better combination for this undertaking, unprecedented in terms of scope and ambition, which was able to draw on the experience and know-how of all partners involved.