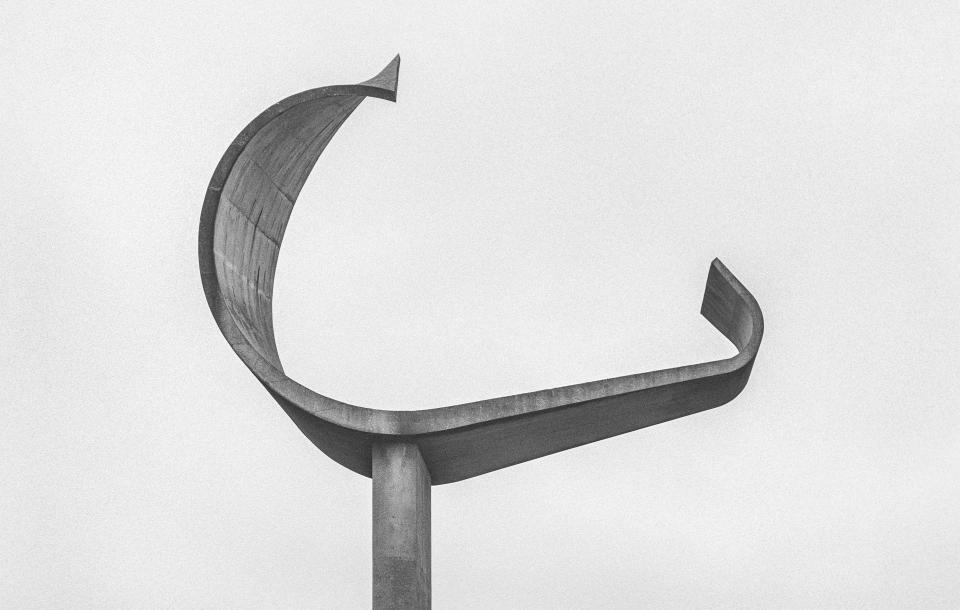 Between architecture and sculpture
Jacques Moeschal (1913-2004) studied architecture and then trained as a sculptor at the Royal Academy of Fine Arts in Brussels. Gradually, he developed into a genuine 'architect artist'. His best-known sculptures are gigantic in size and are usually erected in concrete. Both his working methods and aesthetics therefore bear witness to his legacy as an architect. Modernist architects such as Le Corbusier and Oscar Niemeyer were also great sources of inspiration for Moeschal.
Expo 58 as the turning point
In 1958, Jacques Moeschal designed the Arrow of Civil Engineering for the Civil Engineering Pavilion at the World Fair in Brussels. It signalled his national and international breakthrough. The concrete construction with its 80-metre-long arrow impressed the visitors, who were also able to walk on the arrow by means of a pedestrian bridge. The pavilion was a true technical masterpiece, but unfortunately it was demolished in 1970. After this experience, Moeschal shifted his focus to making sculptures
The motorway as a museum
Moeschal's wish was to erect concrete sculptures at regular intervals alongside the motorways. They became landmarks, recognition points for the motorists who drive past them every day. And that was Moeschal's intention: to ensure that absolutely anyone could enjoy his works. His best-known work is perhaps the Signal in Zellik. The huge open loop stands on a 23-metre column and welcomes motorists entering or leaving the capital.
Moeschal goes international
Apart from the many works in his own country, Moeschal also appeared several times on the international stage. In the Negev desert in Israel, he erected a concrete Signal and, in 1968, a 20-metre-tall solar disc for the Olympic Games in Mexico City. Moeschal often repeated a design of a sculpture and adjusted the scale to fit the new location. For example, he had plans for a monumental sculpture in an Iranian desert, which were never carried out. Later, a smaller version was built in Brussels, on the roundabout at the Porte de Namur.
Silence is golden
Moeschal is credited with many sculptures as well as architectural masterpieces. But why do we not know him anymore? The curator, Angelique Campens, thinks this may have everything to do with his modest personality. He wanted not only the name of the artist, but also those of all the engineers and workers, to appear on the plinth. Nor was Moeschal an artist who talked endlessly about his work. He preferred to remain silent and let the works of art speak for themselves.
Fancy rediscovering the artist? You can still visit the exhibition Jacques Moeschal, Architecture Sculptures at Bozar until 19 September. Book your tickets on our website!