The square
A white sheet? A blank canvas? From the 1950s onwards, white and coloured squares suddenly appear in Raveel's paintings. You can make different interpretations of it, but for the artist it was mainly a way of creating a contrast with nature. A square is a shape we do not normally expect. Raveel associates the square with a kind of 'magic' that invokes its power over nature.
The cart
The handcart is a popular means of transport in the countryside where Raveel lives and works. He has one in his garden. He gives it a modern look by attaching bicycle wheels to it. At first, the cart appears in his drawings and paintings, but it later detaches itself from them. The cart is now an independent, three-dimensional object that can move freely in space and – purely hypothetically – can leave our exhibition halls.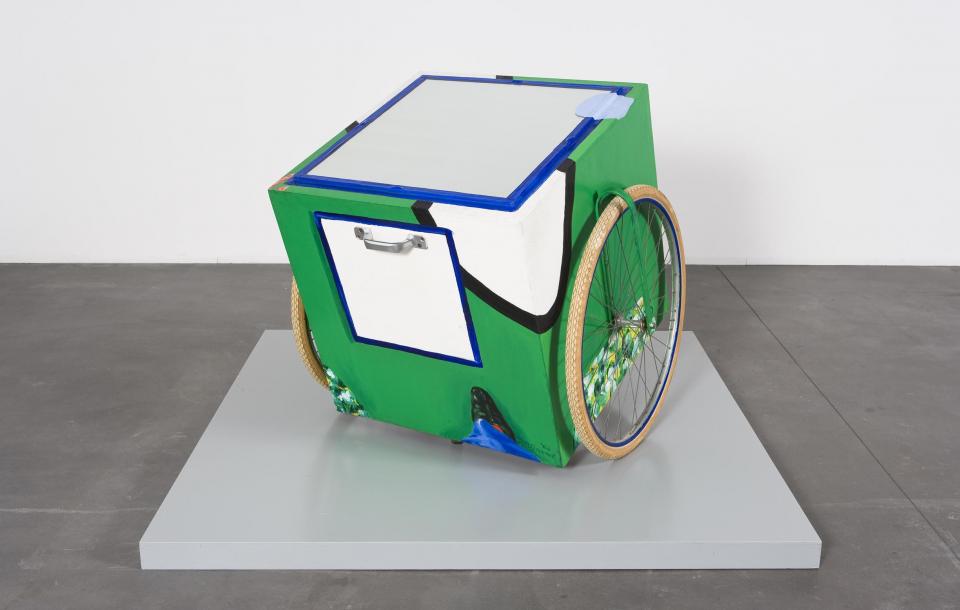 The mirror
Ever since its invention in the Middle Ages, artists have been captivated by the possibilities of the mirror. Just think of the famous Arnolfini Portrait by Jan Van Eyck. It is therefore the perfect way to bring reality into art. Van Eyck painted a mirror and thus created the illusion that the viewer was stepping into the painting. Roger Raveel went to work with a real mirror. In the Cart to carry the sky, the environment and the spectator travel with it, wherever the cart goes.
Where better to perceive the infiltration of modern life than in a village in the countryside?
The concrete pole
In the city, the entry of modernity is less obvious than in the countryside, says Raveel. A petrol station, the concrete or the car blend almost unnoticed into the urban environment. In his native village of Machelen-aan-de​-Leie, where Raveel has lived all his life, he gradually feels modernity creeping in. He wants to make this clear with the concrete poles in his paintings. When you visit the exhibition, you will notice that the scenographer was also inspired by Raveel's concrete interventions.
The striped figure
A final typically recurring motif in Raveel's work are striped figures. At first glance, it makes you think of a Michelin man or a prison uniform, but what did the artist mean by this? This is not entirely clear to date. Curator Franz W. Kaiser hypothesises that Raveel used the stripes as a way to give volume to his figures, without having to paint realistically as a result.
The exhibition Roger Raveel. A Retrospective is entering its final months. You can still go and see it until 21 July. Book your tickets on our website!