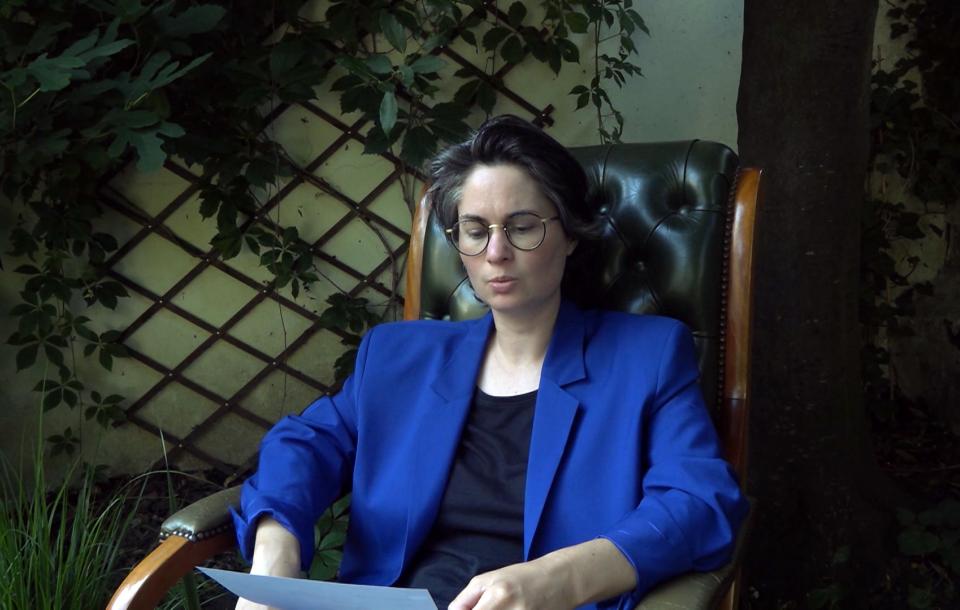 How to read poetry to cancer cells? French artist Sandra Lorenzi and Belgian molecular biologist Jean-Christophe Marine (VIB) are seeking to answer this question during their Art&Science residency, an innovative initiative bringing together researchers and artists over a period of seventeen months. The French-Belgian duo discuss the production phase of their joint project, a cinematographic work that will be presented in its final form during the Studiotopia exhibition, Art Meets Science in the Anthropocene, to be held at Bozar from 5 May to 19 June 2022. In the film above, Sandra Lorenzi explains her approach and the progress of their reflections as part of this residency, through which she extends Jean-Christophe Marine's skin cancer research to the field of art. "My artistic practice," she explains, "uses various media: drawing, poetry, poetic writing, installations, sculpture, murals. Through my work, I try to reconnect with my imaginary worlds, to connect with the living, and to connect what is not yet connected, in other words, to link things or beings that would not normally meet, stories that would not usually connect, and to get them to resonate as one."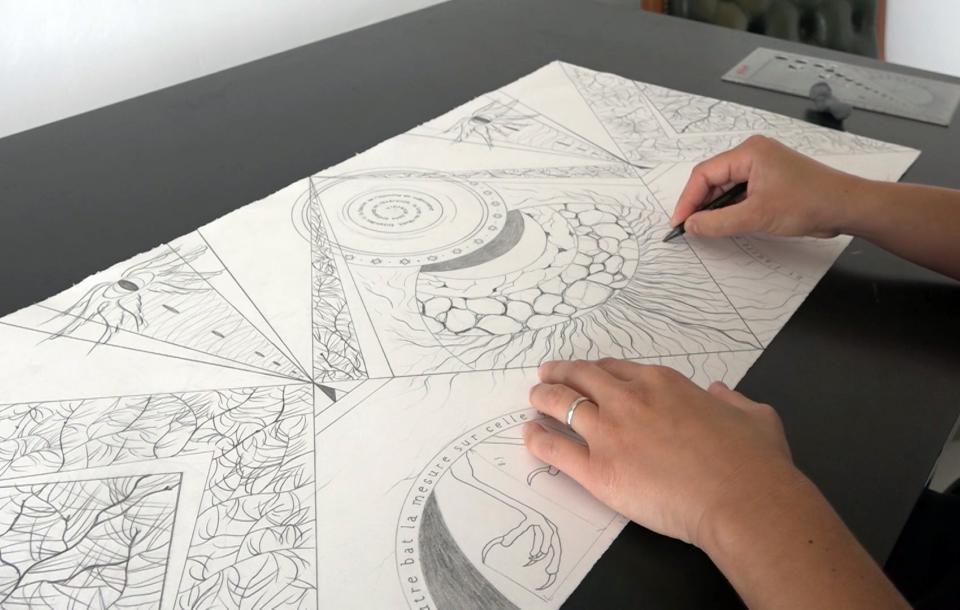 The power of the imaginary world
In a previous work, Sandra had written a philosophical ode in which the protagonist was a cricket. In it, she spoke "of the former lives of a cricket who has met a variety of different characters during the course of his life. He has met a miner, he has met a First World War soldier, he has met a little Chinese girl. And through these lives, ultimately, the cricket questions his status as a being, his relationship with humans." A web of relationships that are unlikely in life, but that the imaginary world makes possible in order to question that life.
For her current residency, with a central focus on the idea of care and providing care, Sandra Lorenzi explores a new web of relationships, between a former or current cancer patient and cancer cells, using the formidable creative power of the imaginary: "This relationship with the imaginary world is very strong for me. I think that the imagination has been too underestimated as an ability, as a faculty. There is a great deal of focus on intelligence, intellect, but the imagination is sometimes forgotten as a real ability that makes it possible to create other relationships with the world and to move toward other futures." As if, by configuring the choice of possibilities differently, the imaginary world could then help the patient in their confrontation with cancer. In short, moving away from reality in order better to cope with it.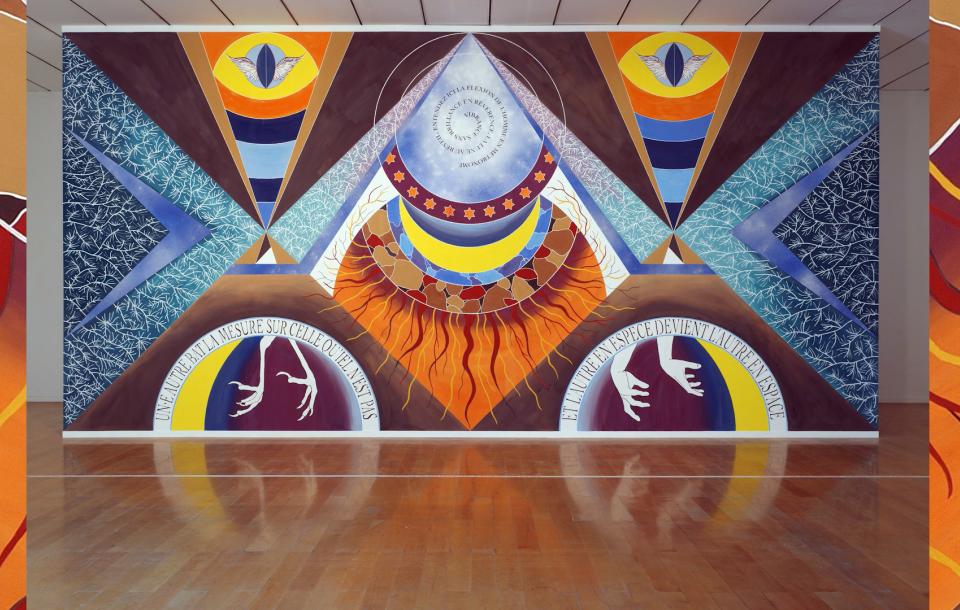 The expression of disease compared with that of poetry
To achieve this, Sandra uses organoids, which sustain the life of small portions of tumour samples taken from patients to test different medicine combinations and determine the best possible treatment for each disease. In Sandra and Jean-Christophe's system, these organoids give the former or current patient the possibility of coming into visual contact with these cells and to literally objectify the disease.
To establish this courageous face-to-face - because disease is a theme that is rarely tackled so directly in contemporary art - they chose to read Ovid's Metamorphoses, in which "a sort of poetic organism develops. Certain emotions such as jealousy, desire and anger lead to the petrification of souls and the petrification of the body. And the word cancer appears. We found this really interesting; this parallel between a poem from Antiquity, this idea of petrification, and (...) state-of-the-art, ultra-modern practices such as fundamental cancer research". Keen to give (former) patients a major role, Sandra also invited them to take part in an expression workshop designed to answer the question at the heart of her work: "What would you like to say to your cells?" A way to contrast the expression of disease with another form of expression that puts words to a too-often inexpressible relationship.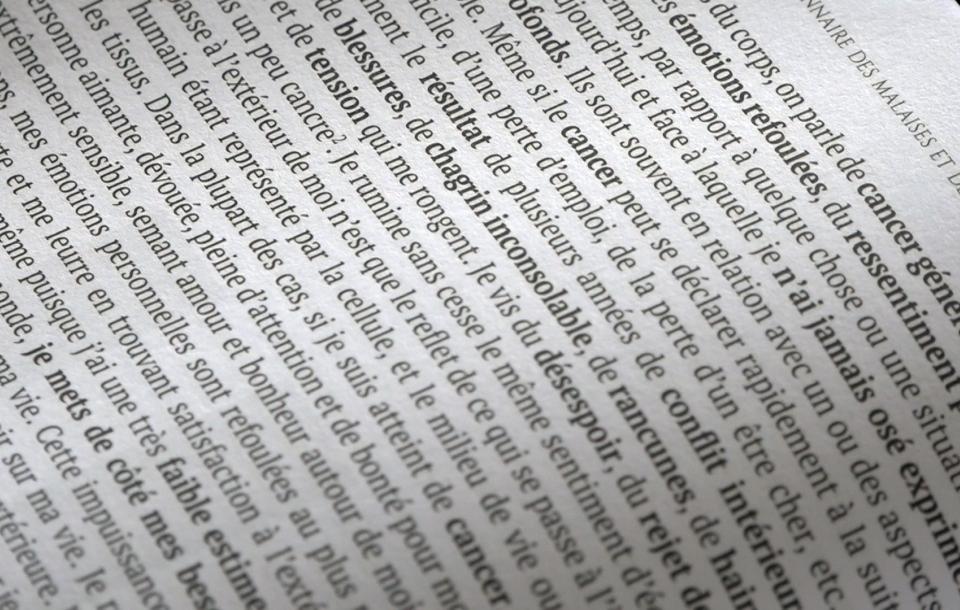 The film tracing this confrontation will be presented at the end of Sandra and Jean-Christophe's Art&Science residency, during the Studiotopia exhibition, Art Meets Science in the Anthropocene, at Bozar from 5 May to 19 June 2022.
To find out more…
 Studiotopia
Supported by the Creative Europe Programme, the STUDIOTOPIA initiative aims to increase collaborations between cultural and research institutions, academia, innovation centres, artists and citizens. The initiative brings together eight European cultural institutions: the Centre for Fine Arts (Bozar) and GLUON, Ars Electronica in Linz, the Cluj Cultural Centre, the Laznia Centre for Contemporary Art in Gdansk, Onassis Stegi in Athens, Vrije Universiteit Amsterdam and Laboral in Gijon. As part of the initiative (2019-2022), STUDIOTOPIA will organise a vast programme of activities across the partnering institutions: residencies, exhibitions, pop-up labs, workshops and talks. During a 17‑month residency, 13 teams from across Europe, including 25 scientists and 13 artists or artists' collectives, will be working together on projects that bring art and science closer together. The results of these collaborations will be exhibited and presented to the public in different partner institutions at the end of residencies.
For more information: https://bitly.com/studiotopia
The VIB Grand Challenges Programme
The VIB (Vlaams Instituut voor Biotechnologie) is the scientific partner of this art and science residency. The residency is part of the VIB Grand Challenges Programme, which aims to increase the societal impact of VIB, by supporting transversal and disruptive research programmes in fields as varied as innovative treatments, epidemic control, sustainable agriculture or targeted treatments. Researchers hope that their findings will help patients and society as a whole. As Professor Sofie Bekaert, coordinator of the Grand Challenges Programme, points out: "The artist-in-residence programme is a dive into the unknown, an ultimate form of interdisciplinarity through languages, materials, aesthetics and ethics of two very different but incredibly creative disciplines. We believe that this interaction will give rise to a higher level of creativity and generate visibility and dialogue with stakeholders and the general public."
For more information: https://vib.be/grand-challenges-program
Useful links