A few years ago, you performed A Call to Prayer in Bozar. And now you are back on stage together with a new project: Transitions. Musically, you never seem to tire of each other, do you?  
Ghalia Benali: I first met Romina in 2012, at the Allegory of Desire rehearsals. It was the first time I'd seen and heard a viola da gamba up close. Because of that, the setting became something magical for me: a wonderful instrument, played by a young woman who also sang Indian music. When I watched Romina at work, I felt we spoke the same language; that there was, in spite of our differing musical backgrounds, a connection between us.
Romina Lischka: I felt the same at that moment. Apart from the viola da gamba, I've also specialised in dhrupad, a genre of classical Indian singing. And although our voices are quite different, I'm still amazed by how well they go together. Thanks to Ghalia, I'm getting to know the richness of Arabic music, while she responds intuitively to dhrupad melodies and the western repertoire of the viola da gamba. I think that this mutual enrichment constantly draws us together.
For the Transitions concert you're also featuring the Turkish kemençhe
GB: When I heard Neva Özgen playing her tiny Turkish instrument, just as with Romina's viola da gamba I was amazed by the unusual and yet so familiar tones. Neva and I began to improvise together and that worked right away. With her too I felt, in spite of our cultural differences, a strong musical connection right from the outset.
RL: What's more, Neva's father (Ihsan Özgen, ed.) is a famous kemençhe player. That's why during the concert Neva introduces not only seventeenth century Turkish music, but also some of her father's compositions. And she improvises from out of her own musical tradition on western pieces, such as Johann Sebastian Bach's aria Erbarme dich.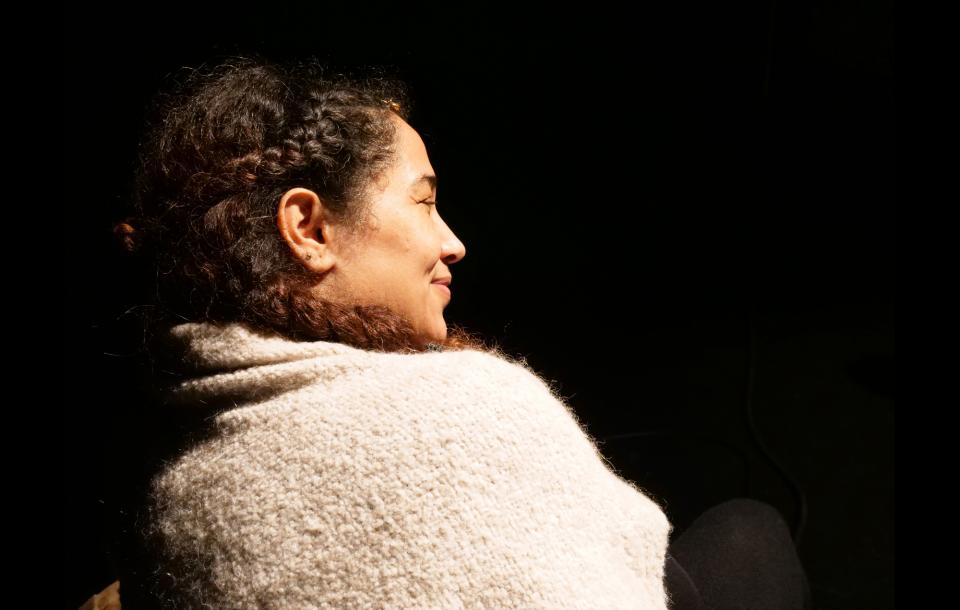 Is that what Transitions is all about? An interconnection between east and west?
GB: The title 'Transitions' certainly spells out what music chiefly means for us: a quest for what connects us, for the common ground. Because we are exploring each other's musical cultures, our own way of making music and composing is enriched.
RL: I myself am strongly attracted to the simplicity and accessibility of Arabic music. It's as if that music confines itself only to the essential, while western music is sometimes more complex.
GB: And I'm always amazed by the number of layers there are to be discovered in western classical music. Johann Sebastian Bach's compositions, for example, overwhelm me with the extraordinary power of their complexity. As musicians we feel in continual transition, as if there's no end to the music we create together, that it keeps constantly evolving.
RL: Apart from the quest for a shared musical language, the concert is built around seven themes, with transition being the common thread. In various cultures, death is not only seen as an endpoint but simultaneously as the start of something new. Death can thus be seen as a form of transition. In Sufism, the mystical branch of Islam, transition as trance also has an important role. Through the repeated motions and texts, sometimes lasting for hours, Sufis believe they experience a spiritual transition that brings them closer to God.
GB: Or take the characters Shahryar and Scheherazade in One Thousand and One Nights. In order to prevent his wife from cheating on him, Sultan Shahryar decides to choose a new bride every evening who is then killed the next morning. When Scheherazade's turn comes to marry Shahryar, she entertains the sultan with endlessly long stories, a thousand and one nights' long, to ensure that she is not killed. As an Arab singer-songwriter, I find it interesting to formulate a contemporary response: one in which the woman no longer fears for her life or suffers male violence. Daring to retell old stories in a new way: for us that's also transition.
Transitions isn't only a concert. Folkert Uhde has created video projections as part of the performance.
RL: It's the first time that we've decided to integrate video projections in a concert. It was consequently important for us that the images interact with the music, without drawing attention away from the music. We feel that Folkert has really succeeded there. The slowly changing images follow the tempo of the music quite naturally and bring an extra dimension to the whole.
GB: You can really say that Folkert is the fourth link in our project. His video projections are as indispensable as the three musical instruments. With an image you can choose where you wish to direct the audience's attention. When the text is important, then the song lyrics appear. But the images can just as well reveal underlying transitions in the music. At the same time, we experience Folkert's video projections as something that, just like the music, evolves during the rehearsal process. So we'll have to wait until the première to actually know in what way video and music will have interconnected together.