Why did you create La Maestra female conductors' competition?
Claire Gibault: The project came into my heart and mind in September 2018. When I was on the jury of a conducting competition in Mexico, I witnessed extremely misogynistic behaviour towards a young candidate. I was shocked by it.
Back in Paris, I met a patron of the Paris Mozart Orchestra who had also experienced misogyny on corporate executive boards. I told her my idea, explaining that there are very few women on the juries of conducting competitions, that none of them are chairpersons and that few female candidates are selected. She said to me: "I think we need to make this talent visible. I'll fund this competition." I went to see Laurent Bayle – then the director of the Philharmonie de Paris – who told me: "You are perfectly right to hold this competition. I know the struggle you've had all your life."
What role does this competition play in society?
Claire: In 2016, only 4% of conductors scheduled for concerts in musical institutions were women. After two editions of the competition, we have exceeded 10% worldwide and are approaching 12% in Europe. I'm not saying that the competition has achieved this progress. Society has evolved; there was the #MeToo movement. But we've played our part. If one day we reach 50%, we'll make this a mixed competition. And it will be a triumph to come together! You know what they say about quotas: "We don't like quotas though we like what they achieve."
Another interesting aspect of La Maestra is that there is no age limit for the candidates.
Claire: Initially we set an age limit of 35 years. As we received many letters from older women who wanted to be given access to the competition, we abolished this limit and focused exclusively on the quality of the applications. One of these candidates won the competition and was able to benefit from this springboard for her career. It's very exciting to see!
Anna, how did you decide to enter the competition?
Anna Sułkowska-Migoń: At that time, I was still a student at university. I was working at the Kraków Philharmonic as a choirmaster and also as a conductor with Polish orchestras. It was during the pandemic: a time in my life when I understood that I needed to change something if I really wanted to be a conductor. La Maestra was the first competition for orchestra conducting that I applied to. When I got the message saying that I was accepted, I cried with happiness.
What was your objective then?
Anna: I knew that I was one of the youngest candidates, with not much experience. So my goal was less to win - that was my dream! - than to meet great musicians from the jury, such as Claire, and to reach the second stage of the competition, La Maestra Academy: a two-year programme on which I could develop my skills. You can't find any other competitions for conductors that take care of you for two years! So, I was really shocked when I won the first prize.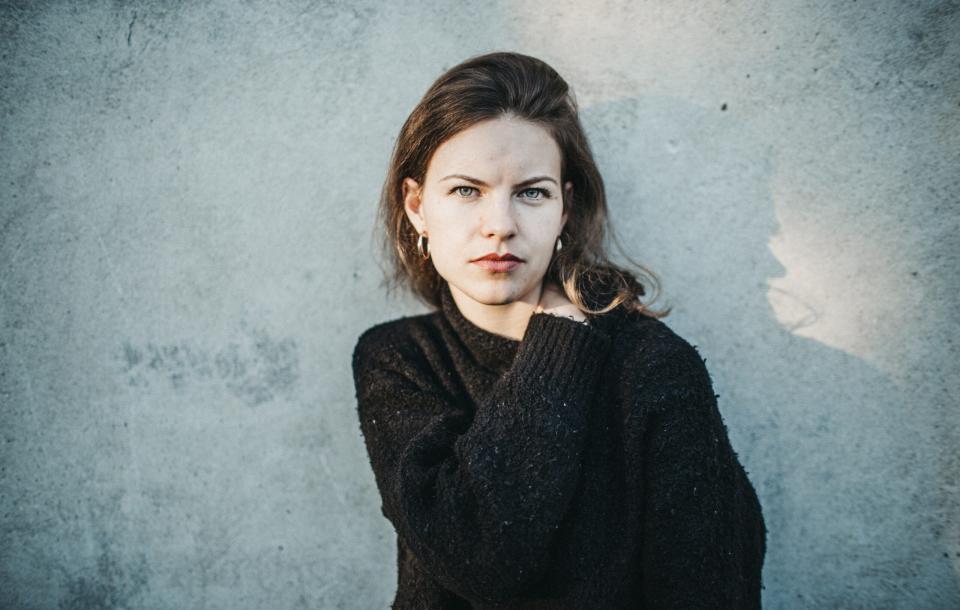 Why did the jury choose Anna?
Claire: Anna has a very fine musical analysis. The fact that she studied choir conducting is a plus, because she can make the orchestra sing! Those who come from choir conducting usually have a more physical and simple touch with the musicians. We didn't choose the most experienced person, but the most gifted, with a unique musical personality. That's what we're interested in: discovering great performers.
Despite your very different backgrounds, do you find things in common?
[Claire and Anna laugh]
Anna: I think that Claire and I are the same in daily life and on stage. A lot of conductors create another personality on the podium. But we don't pretend. I know that it's risky because when people attack you, they attack your personality. But how can we be more real, if we're not ourselves?
Claire: I don't know how to separate private and professional life. They feed off each other.
In 2011, you founded the Paris Mozart Orchestra, which is another egalitarian project. Is it an expression of the world you would like to see emerge?
Claire: Yes, we want to change the world! [Laughter] If you've seen the film Tár, you know that we have to revolutionise this institutional view of music, which is full of cruelty. There are musicians who play with me – excellent soloists – who tell me that when they play with certain conductors they have to take beta blockers. We want to be real artists, who defend the values of unity. Conducting is not dominating, it's sharing and uniting.
Anna: I think that our generation needs to change things. The conductor has a magic power in its hands: not only for music, but also to change the atmosphere in the orchestra. Sometimes I need to remember that people don't have to like you, but to respect you. Of course, as a conductor I make the final decision, but it's based on respect.
Claire: But we make the final decision together, because the musicians also put forward ideas.
Anna: Of course! But when you have two proposals, you need to choose one of them.
Claire: [Laughs] Absolutely!
In Bozar, you'll be performing a piece by a contemporary composer, Graciane Finzi. How do you view the place of female composers in concert programmes?
Claire: Female composers suffer even more than female conductors, since only 1% of the music played is written by female composers. But there are major movements today that are working to promote them. And we're part of that. During the next edition of La Maestra, there will be works by female composers in every event!
A word to the audience.
Anna: Without the audience, our work is worthless. People need to know that they are an important part of our life and work.
Claire: Women can be united and the Paris Mozart Orchestra is convinced of this. So come and have a good time with us!