Between Liège and Paris
Belgium did not yet exist and Franck spent most of his time in France, so it is not entirely clear whether we should classify him as a Belgian or a Frenchman. The fact is that little César was born in Liège on 10 December 1822. In his hometown, he received his first lessons at the conservatory, but the Franck family would immigrate to Paris in 1835. After some problems with his nationality – a Belgian could not study in France – he began his studies at the Paris Conservatoire in 1837. Franck would live and work in the French city of lights for the rest of his life, but did not acquire French citizenship until 1873.
From piano prodigy to organ virtuoso
It was by no means certain that Franck would become a composer. At an early age, his piano skills were noticed under the watchful eye of his father. He built a successful career as a piano virtuoso, and it looked as though he would devote his entire life to the keyboard. Until it came to a rift with his father in 1846, because the latter was directing Franck's professional pursuits too much. From then on, Franck began devoting himself to the organ. He would hold important posts at churches, the most important being that of organist of the Church of Saint Clotilde in Paris.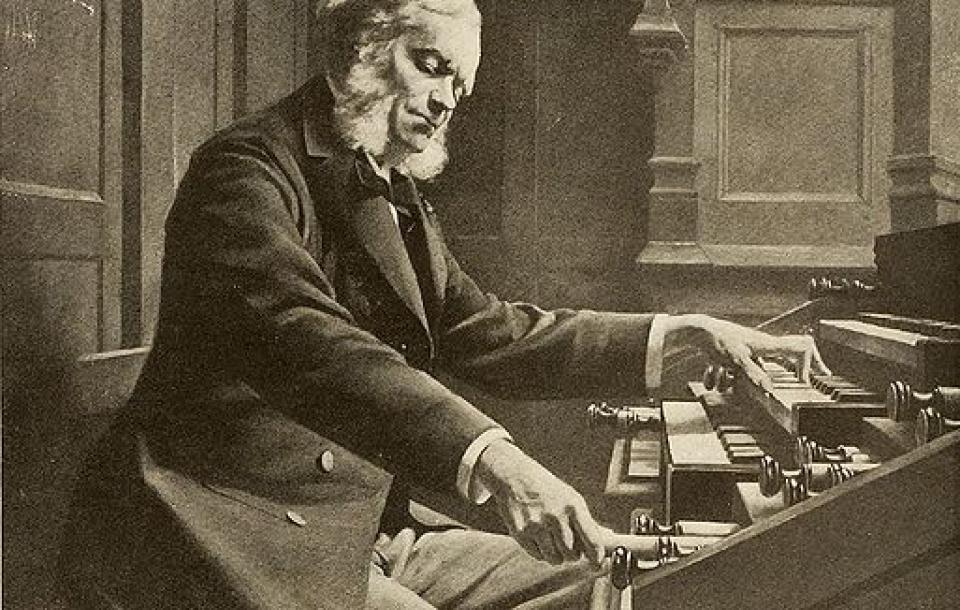 Small but rich body of work
His busy musicianship and teaching life is probably the main explanation for his relatively modest body of work. In his younger years, he wrote modest salon music, and some more important works such as his First Piano Trio or the oratorio Ruth. Only in the last fifteen years did he compose one masterpiece after another, including the Piano Quintet (1879), the Violin Sonata (1886) and the Symphony in d (1887). On a grander scale, he set to work in his opera Hulda (1885) or the oratorio Les Béatitudes (1869), which he himself considered his magnum opus.
Musical style
César Franck was captivated by Richard Wagner's Tristan und Isolde. Franck's late works in particular are therefore bathed in tension-filled harmonic atmospheres. But even more important than this harmonic richness is the cyclic form, as it is known. Like Beethoven and Berlioz, but especially Liszt, he allows similar musical material to recur over the different parts of a work. Specifically, Franck builds his work out of small motivic cells that he makes appear in varied ways in the other parts. Franck's Piano Quintet and his Symphony in d are particularly permeated by this procedure.
Bande à Franck
Franck's method of composition earned him much admiration. A whole host of composers such as Vincent d'Indy, Henri Duparc and Ernest Chausson rallied around him. This so-called Bande à Franck would become his most ardent admirers, as well as defenders of his work. How much these French composers adored Franck is shown by this quote from Vincent d'Indy, with which he opens his 1906 study of the composer:
"On 10 December 1822, the day the giant of the symphony, Ludwig van Beethoven put the finishing touches to the manuscript for a work that he... rightly considered his most perfect masterpiece – the Missa solemnis – a child was born into the world, destined to become the true successor to the Master of Bonn..."